After you read the inhumane treatment that the January 6 political prisoners have been undergoing for nearly a year "as subhuman", see if Abraham Lincoln did not predict the opposition's condescending (and, frankly, hateful) attitude as far back as 1860.
Some two weeks before Christmas, writes PJ Media's Kevin Downey Jr (thanks to Stephen Green + (update) to Ed Driscoll for the instalink), Rep. Marjorie Taylor Greene
released "Unusually Cruel — An Eyewitness Report From Inside The DC Jail," her report about what she saw when she was finally allowed to meet the January 6 political prisoners.

Reps. Greene, Gohmert, Gaetz, and Gosar tried, unsuccessfully, to visit the January 6 political prisoners twice earlier this year. … Greene and Gohmert (and their respective staffs) finally got to tour the D.C. jail where the J6 inmates are held, though the jail staff DID try to end the tour of the jail before the reps got to meet the political prisoners.

"What is there to hide?" Gohmert pressed. "The complaint has been that they've been treated
differently than the other detainees. I thought tonight we were going to find out."

At that point, the tour had already lasted two hours and Greene and Gohmert hadn't yet met a single J6 inmate. After an 11-minute discussion, the tour went forward.

Greene and Gohmert met with roughly 40 J6 inmates, in what Greene described as a noticeably older part of the prison, which appeared to have not been updated recently, unlike the rest of the prison.

… Greene's report is disturbing and damning. It highlights the brutal and unconstitutional treatment of J6 prisoners at the hands of Biden's legal system. J6 inmates have been beaten. The prisoners complain of chemicals and pubic hair in their food.

The conclusion to her report starts with the following,

The congressional visit to the D.C. jail on November 4 unquestionably proved that there is a twotrack justice system in the United States. This two-tiered system is not based on race, violence, or conviction of crime, but politics.
It would be too much of a stretch to compare Andersonville (to use another Civil War-era image) to "the DC Gulag", but still, when you hear how rights are being violated by Democrats or leftists, check out if the portrait of one of the wardens isn't at least partly reminiscent of the CSA's Commandant Henry Wirz…
Especially while reading Kathleen Landerkin's tweets calling Trump and/or his supporters — i.e., the warden's current prisoners — "morons," "people who conspired with the traitors," and persons who are worse than "foreign terrorists."
No wonder the demands for Maoist self-denunciations. No wonder the abusive treatment of January 6 protestors and the unrighteous sentences handed down on the heads of such political prisoners as Jacob Chansley (a non-violent, harmless eccentric and U.S. veteran). No wonder that, during the Terror in the Capitol Tunnel on January 6, the usual Drama Queens went berserk with batons on the protesters. Julie Kelly:
Future court filings, interviews, and security footage will slowly reveal to the public how law enforcement, beginning at around 1 p.m. that day and continuing for hours, attacked and beat American citizens who dared to protest the election of Joe Biden.
As The Hill's Brad Dress reports,
Rep. Marjorie Taylor Greene (R-Ga.) and 13 other Republicans are calling for the immediate termination of the deputy warden in charge of inmates connected to the Jan. 6 riot, who are being held inside a Washington, D.C. jail.

In a letter to D.C. Mayor Muriel Bowser shared on Twitter, Greene accused D.C. Central Detention Facility (CDF) Deputy Warden Kathleen Landerkin of "displaying animus toward anyone who supports Donald J. Trump" and of a perceived bias against Trump supporters.

"While most of these inmates have no prior criminal history and have yet to be convicted of any crime, Landerkin is allowing them to be treated as subhuman," Greene wrote in the letter Thursday signed by fellow Republican Reps. Paul Gosar (Ariz.), Matt Gaetz (Fla.), Andy Harris (Md.) and Lauren Boebert (Colo.).

Deputy Warden Kathleen Landerkin, the person in charge of J6 pre-trial detainees is an unhinged left-wing ideologue who despises President Trump, his supporters, and Republicans.

Today, 13 of my colleagues and I sent a letter to @MayorBowser demanding her immediate termination. pic.twitter.com/XdE4IhZCbf

— Rep. Marjorie Taylor Greene (@RepMTG) December 16, 2021

… The letter criticized Landerkin for tweets it said she had sent calling Trump a "pig," and "equating Christians to the Ku Klux Klan," as well as saying Ashli Babbit, a rioter who was killed on Jan. 6, "was responsible for being shot.
So where does Abraham Lincoln and his 1860 speech fit into all this?
Only a dozen years ago, James Carville referred to (modern-day) Republicans as "reptiles".

And 160 years ago, when an Illinois Republican felt the necessity to address himself to Southerners and Democrats (during his Cooper Union speech in February 1860), guess which term Abe Lincoln reached for:

…when you speak of us Republicans, you do so only to denounce us as reptiles [!], or, at the best, as no better than outlaws. You will grant a hearing to pirates or murderers, but nothing like it to [Republicans]. In all your contentions with one another, each of you deems an unconditional condemnation of [Republicanism] as the first thing to be attended to. Indeed, such condemnation of us seems to be an indispensable prerequisite — license, so to speak — among you to be admitted or permitted to speak at all. Now, can you, or not, be prevailed upon to pause and to consider whether this is quite just to us, or even to yourselves? Bring forward your charges and specifications, and then be patient long enough to hear us deny or justify.
"Reptiles, outlaws, pirates, murderers"… How often have Republicans been called (domestic) terrorists in the past seven years? (And in the years, in the decades, before that?)
Who would want to be patient long enough to hear such heinous beings deny or justify? (Ain't that true, MainStream Media?) Who wouldn't want to punish such monsters?
Related: What Caused Secession and Ergo the Civil War? Was It Slavery and/or States' Rights? Or Wasn't It Rather Something Else — the Election of a Ghastly Republican to the White House?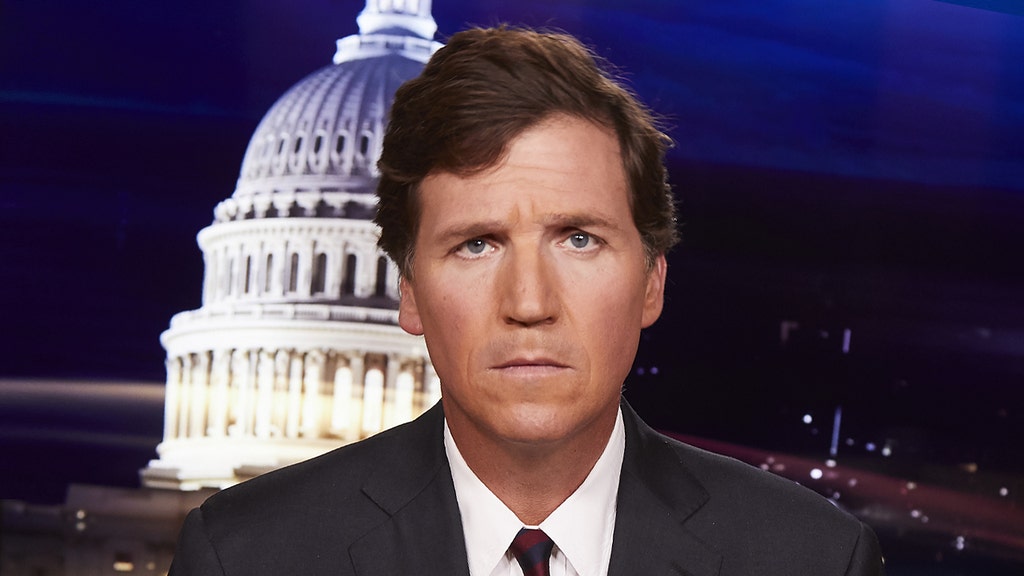 Let's let Tucker Carlson have the final word. Although the Fox anchor is talking about a different subject — Biden's COVID policies — he points out that we are witnessing the muscle spasms of a dying political party:
… the people in charge of diverting your attention are working overtime right now

… political parties, like markets, often seem the strongest right before they collapsed. The problem is, at this moment, the Democratic Party is still in power, and that's a very bad combination for the rest of us. Regimes in decline tend to become dangerous. As they weaken, they get increasingly desperate and ruthless. They've been rejected by voters. Democracy doesn't work for them anymore. That means they can no longer operate within democratic boundaries and hope to stay in power. So inevitably, they swerve outside those boundaries. Instead of trying to convince the public to support them, that's a democracy, they invent domestic enemies and national panics to keep themselves in charge. And that's exactly what we're watching happen right now.

… CNN and its masters in the Democratic Party have identified the real villain to blame for [the latest COVID outbreak]. And you'll know, even before we tell you that it's not Pfizer, it's not the government of China. It's America's working class, a group now known as "The Unvaccinated." On Thursday, Joe Biden informed us that these people will die for what they've done.

… Biden's advisers want you looking elsewhere. And to get you looking elsewhere, they are working to create a kulak class — a group of reviled subhumans at the rest of us are free to hate and mock and whose deaths were allowed to root for. That's the unvaccinated.

When David Frum tells you we should let the unvaccinated just die, he's not alone. That is not the official position of the Democratic Party. If you get COVID in you're unvaccinated, it is immoral for you to go to the hospital, you're overcrowding it. And we need that space for the many people who've taken the COVID vaccine and are now sick from COVID. That's what the president United States just said on Thursday.

… whatever personal decisions about the vaccine or COVID or how many masks you wear, if any, know what you're watching here. This is not a public health campaign designed to save you from a variant that has not killed a single confirmed American. Sorry, it has not. No. So, what is this? These are the muscle spasms of a dying political party. The people in charge are on their way out. Unfortunately, they can still hurt you.
America has no enemies, we are told. All of humanity could easily live as brethren. With one exception. America's conservatives and, on a larger scale, the American people.
They hate you.
And they want you dead.
"We're in a war, and it's a war to the death. Now they [the Left] actually admit it. They used to pretend. Not anymore."
—
Norman Podhoretz
in
The New Criterion
Related History Posts:
• What Caused Secession and Ergo the Civil War? Was It Slavery and/or States' Rights? Or Wasn't It Rather Something Else — the Election of a Ghastly Republican to the White House?
• During the Winter of 1860-1861, Did the South's Democrats Obtain Their Aim — the Secession of 7 Slave States — Thanks to Elections Filled with Stealth, Lies, Voter Fraud, Intimidation, Violence, and Murder? (Wait 'til You Hear About… Georgia's Dark Secret)
• Abraham Lincoln and the Founding Fathers' Supposed Embrace of Slavery Along with Their Alleged Rejection of Women's Rights • Wondering Why Slavery Persisted for Almost 75 Years After the Founding of the USA? According to Lincoln, the Democrat Party's "Principled" Opposition to "Hate Speech"
• The Greatest Myth in U.S. History: Yes, the Civil War Era Did Feature Champions of States' Rights, But No, They Were Not in the South (Au Contraire)
• Harry Jaffa on the Civil War Era: For Democrats of the 21st Century as of the 19th, "the emancipation from morality was/is itself seen as moral progress"
• Why Does Nobody Ever Fret About Scandinavia's — Dreadful — 19th-C Slavery Conditions?
• A Century and Half of Apartheid Policies: From Its 1828 Foundation, the Democrat Party Has Never Shed Its Racist Past
• The Confederate Flag: Another Brick in the Leftwing Activists' (Self-Serving) Demonization of America and Rewriting of History
• How to Prevent America from Becoming a Totalitarian State
• Inside of a month, Democrats have redefined riots and election challenges from the highest form of patriotism to an attack on democracy — And by "democracy", they mean the Democrat Party
• Why They Don't Tell You the Whole Truth: The 1619 Project Summarized in One Single Sentence
From my and Dan Greenberg's upcoming graphic novel on The Life & Times of Abraham Lincoln: