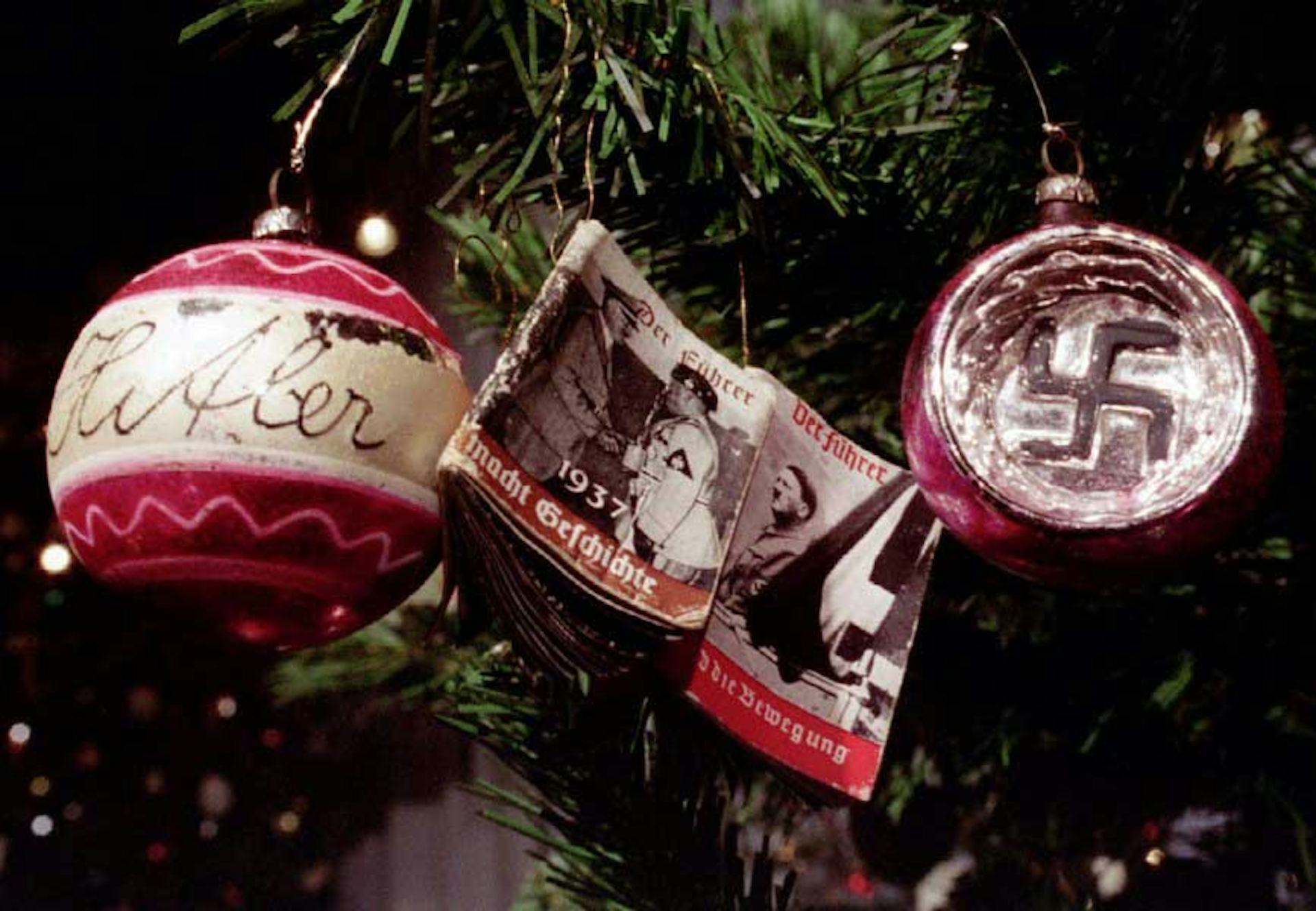 Jesus being a Jew, Adolf Hitler did not want his master race to continue celebrating his birthday, and consequently, the Führer spent his 12 years in the chancellery trying to transform the Christmas holiday into a Nazi-themed celebration devoted to the Aryan race and old Germanic traditions. Thus writes
Emrah Sütcü
in the Danish monthly,
Historie
, putting the lie to the fact that Hitler and the Nazis had in any way a connection to the Christian religion.
Related: • Worshipping Little Else But the Aryan Race,
Hitler Abhorred the Christian Faith
and Wanted to Replace Christmas with the Pagans' Yuletide
• 卐mas Caroling:
The Extremes Hitler Wanted to Go To in Order to Replace Christianity with the "Religion" of National Socialism
•
How Hitler's Nazi propaganda machine tried to take Christ out of Christmas
•
Adolf Hitler in Religious Surroundings: Is There Really Evidence That the Führer Was a Christian?
— an in-depth, dispassionate look at the evidence brought by a couple of commentators claiming that Christianity was an integral part of Nazism…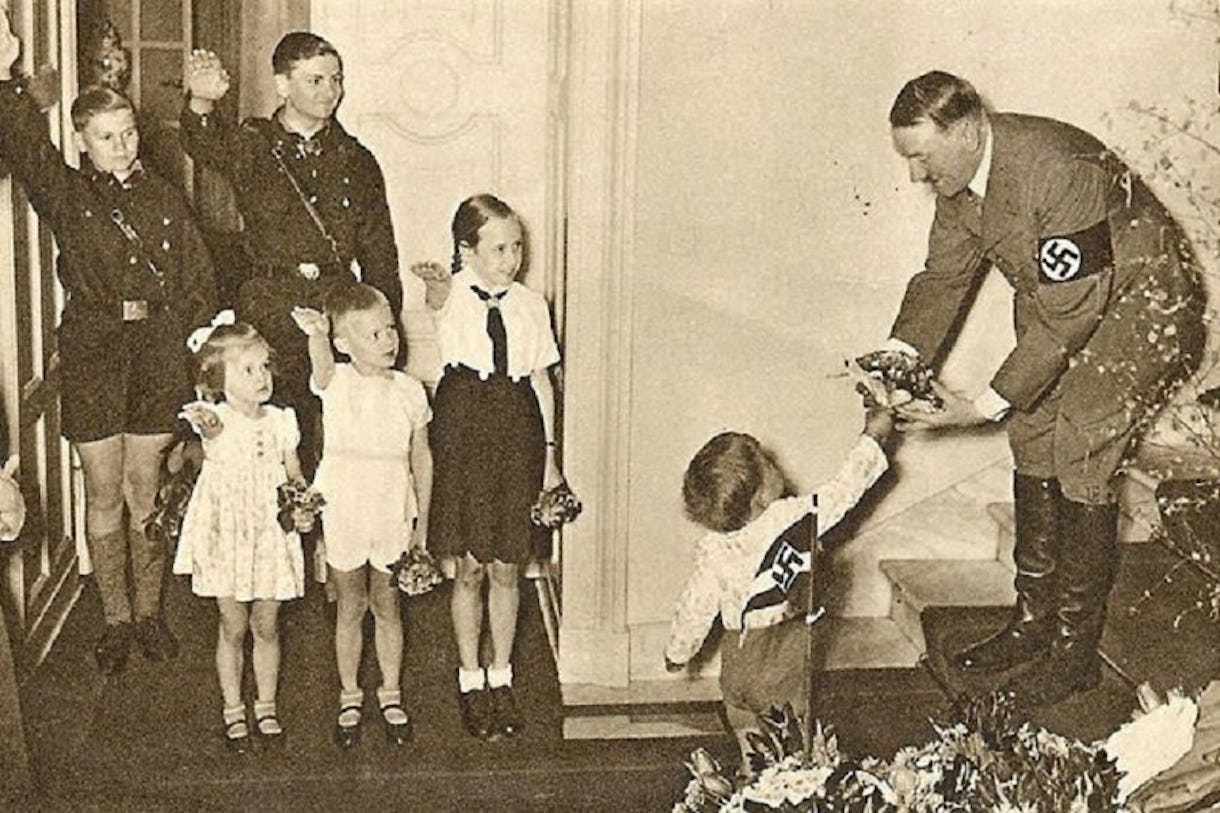 Hitler ville stjæle julen fra Jesus

Nazisterne hadede julen. Derfor forsøgte de med alle midler at forvandle den kristne højtid til en fejring af den ariske race.
Julen skulle fejre arierne

Jesus var jøde. Og en fejring af hans fødselsdag var ikke noget for det tyske herrefolk, mente Adolf Hitler.

I perioden fra 1933, hvor han kom til magten i Tyskland, til 2. verdenskrigs afslutning i 1945 kæmpede Hitlers topfolk indædt for at forvandle den populære kristne helligdag til en nazistisk højtid, som fejrede den ariske race og de oldgermanske traditioner.


Julefred er kun for tyskerne

Først og fremmeset havde nazisterne det svært med julens forsonende budskab om fred på Jorden. Den stemte dårligt overens med ambitionerne om at erobre resten af Europa.
I en artikel fra 1937 understreger Hannes Kremer, et ledende medlem af Hitlers propagandaministerium, at tyskerne bør afvise julen som "en højtid for en teoretisk fred for hele menneskeheden".

I stedet bør være en "højtid for reel hjemmelig og national fred" og altså kun handle om at sikre fred for tyskerne.
En fred, som tilsyneladende kun kunne sikres ved at udrydde nationens fjender i form af bl.a. jøder, kommunister og homoseksuelle.


"Ud med Jesus"

Næste skridt var at køre den jødiske Jesus ud på et sidespor. Til alt held for nazisterne havde tyskerne, længe inden de blev kristne, fejret vintersolhverv omkring juletid.
…


Himmler omskrev julesalmer

Julesange og salmer, der nævnte Jesus, blev omskrevet, så de i stedet hyldede nationalsocialismen. Blandt sangskribenterne var ingen ringere end SS-chefen Heinrich Himmler.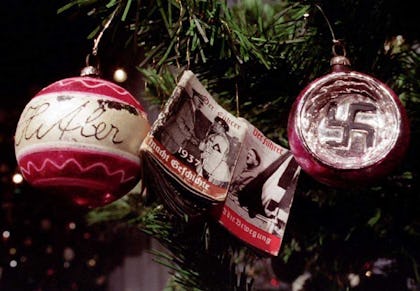 …


Hagekorset skulle op på juletræet

Juletræet havde nazisterne ikke noget problem med, for det har faktisk rødder i hedenske, germanske traditioner. Til gengæld var Hitler ikke glad for den stjerne, som blev placeret på toppen af træet.
I stedet for stjernen - som enten kunne symbolisere den jødiske Davidsstjerne eller kommunismens røde stjerne - skulle tyskerne sætte enten et hagekors, et germansk solhjul eller en oldnordisk rune øverst på juletræet, mente nazisterne.

Julepynt fra Nazityskland, som er blevet bevaret for eftertiden, inkluderer bl.a. kugler med slagord som fx "Sieg Heil" og symboler som bl.a. hagekors, jernkors og ørne.