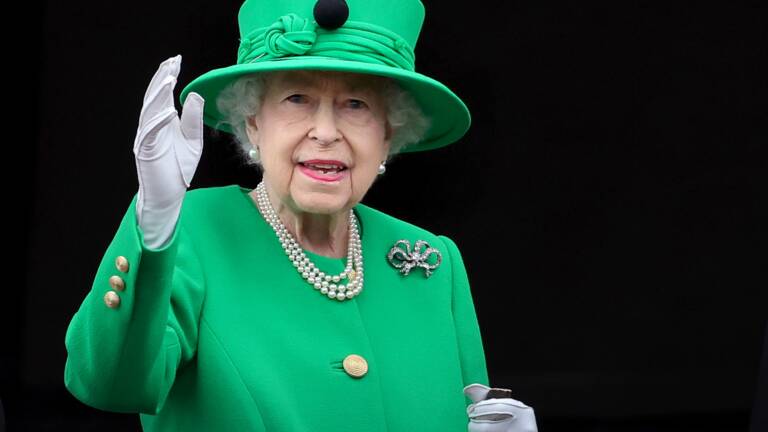 Today is no time to remember the Germanic origins of the Windsor family nor the scandals which rocked the Crown nor the reaction in Ireland nor, indeed, such items as the previous record-holder, Queen Victoria, or Prince Philip's humor. (If you click on one link in this post, Philip's "humour" should be it.)

Today is the time to mourn the head of the Anglican Church, Elizabeth II, under whose charm Winston Churchill (and most of her other 14 prime ministers) fell — who held a particular post in the culture, from James Bond 007 (Daniel Craig) to the Simpsons through the Sex Pistols' Johnny Rotten. (Cheers to our mate Ed Driscoll.)

And Géo Magazine brings us a diaporama of the queen's life while predicting what to expect in the coming days and during the funeral of Windsor Castle's chief inhabitant, seemingly the UK's last tie to World War II and to the British Empire.
A couple of (somewhat) remarkable things that Queen Elizabeth II and King Charles III did — when they were still Princess Elizabeth and Prince Charles (aka the Prince of Wales) — was give their successors names that no king had used for some 200 to 300 years.
The previous King Charles (II) passed away in 1685 while the previous King William (IV) died in 1837, and neither seem to have done much to deserve unfettered admiration. In fact, William IV seems to be remembered today mainly as the uncle and predecessor of Queen Victoria, while both King Charles II and his father (Charles I) were seen at the time (as well as in modern times, somewhat) as something akin to traitors, leading to Cromwell's trial and beheading of Charles I — so Elizabeth's choice of a name was particularly courageous.
Incidentally, the future King William V broke the 20th century's naming spell in 2013, by making his son the future King George VII…
Update: As far Power Link's Week in Pictures comment about Charles inheriting the throne at the age of 73 is concerned ("it is amazing that the guy is taking the throne at an age when most men have started into retirement. Whatever happened to boy kings, etc?"), it is far from uncommon for one monarch having an exceedingly long reign, immediately followed by the son or daughter (quite naturally) with a rather short one. With Victoria and Edward VII, it was similar (reigns of 63 years and 9 years, respectively), as it was for their contemporaries, Denmark's Christian IX and his son Frederik VIII (42 years and 6 years).