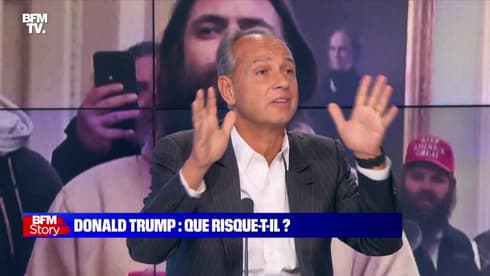 In the wake of, and following the hysteria regarding, Cassidy Hutchinson's allegedly explosive revelations before the January 6th committee, Philippe Karsenty and Erik Svane — both conservatives heavily outgunned, as usual, by the drama queens — were invited to appear on two BFMTV debates.
First, Philippe Karsenty appeared in the studio on BFMTV's Story news series, for a debate about the alleged unpardonable charge that Donald Trump voulait se rendre au Capitole (video).
Près d'un an et demi après les assauts du Capitole à Washington, les auditions parlementaires continuent et permettent d'en savoir davantage sur le rôle joué par l'ancien président américain. Donald Trump a essayé de prendre le volant d'une limousine présidentielle le 6 janvier 2021 pour rejoindre ses partisans qui marchaient vers le Congrès, a rapporté une ancienne collaboratrice de la Maison Blanche lors de son audition parlementaire. On en parle avec: Antoine Heulard, notre correspondant à Washington (États-Unis). François Durpaire, consultant États-Unis pour BFMTV. Philippe Karsenty, porte-parole du Parti républicain en France. Philippe Corbé, chef du service politique de BFMTV. Et Amandine Atalaya, éditorialiste politique à BFMTV.
Later, that evening, Erik Svane appeared for the debate entitled Capitole : le rôle explosif de Trump (video), but only via Skype, where guests with a non-PC viewpoint can more easily be silenced.

Voilà une question lourde : Donald Trump a-t-il fomenté un coup d'État ? La question obsède la Commission d'enquête parlementaire mise en place au Congrès américain le 6 janvier 2021. Au fil de ces auditions, on découvre à quel point cet assaut du Capitole n'est pas spontané, mais orchestré. De plus, le tout dernier témoignage en date est accablant pour Donald Trump.. On en débat avec : Ulysse Gosset, éditorialiste politique internationale BFMTV. Erik Svane, membre des "Republicans in France". Antoine Heulard, correspondant BFMTV à Washington (États-Unis). Amy Greene, enseignante à Sciences Po Paris et spécialiste de la vie politique américaine et collaboratrice de "Les États-Unis dans le monde" aux éditions du CNRS. Et Anne Krratz, historienne, spécialiste des États-Unis à l'Institut Open Diplomacy.