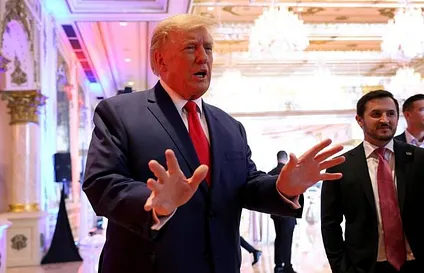 As you listen to Democrats and Republicans alike rage against, mock, or blame Donald Trump in the wake of the 2022 mid-terms, there is one question we all ought to be asking ourselves: How exactly is this different than what has been hurled at Trump for the past six-seven years?
In this case, however, the charge is made worse, of course, by the results of the mid-terms — but have conservatives really forgotten to what extent Democrats rig elections? — along with the fact of The Donald's mockery of "DESANCTIMONIOUS" (thanks to Glenn Reynolds — as well as to Ed Driscoll and to Sarah Hoyt).

While highly critical of "Trump's tantrums over the attention DeSantis is getting", Jeff Goldstein nevertheless recognizes that

the corporate media and GOP establishment shadow-puppeteers like Paul Ryan are trying to blame Tuesday's underwhelming showing on Trump. And yes, they are wooing DeSantis as a potential Trump killer. But the facts are that Trump had a 93% win rate as a midterm kingmaker, with several races still undecided, and obvious missteps like Dr Oz notwithstanding.

… just because the GOP establishment wants to push DeSantis over Trump doesn't mean they can control DeSantis. They may

think

they can
When, however, Jeff Goldstein says that Trump's "behavior repels independents and suburban women", he is forgetting the two-minute (the two-hour?) hate sessions retreaded daily by the "neutral" media…

In that perspective, it should be noted that over at the Conservative House, Sundance points out that the élites, Democrat as well as Republican, are betting on Ron DeSantis in the hope (well-founded or not) that the Florida governor will (consciously or otherwise) be more open to (their) influence.

The Bush clan have wrapped their arms around Governor Ron DeSantis as a 2024 weapon to counteract the MAGA movement. They have poured hundreds of millions into the "acceptable Republican" effort and are in full control of the DeSantis campaign management.

The Mitt Romney's, Mitch McConnell's, Paul Ryan's, Kevin McCarthy's etc are trying to leverage the club dynamic over Ron DeSantis and provide enticements to maintain the alliance with their internal battle plan to retain full control over the Republican Party.

The Never Trumpers, financed by donors, the professional party system and club officials, are all part of the internecine battle.

When President Trump labels the former congressman, now Florida Governor as "Ron DeSanctimonious," that background reality is the who, what, when and why.

This battle is about Republican Party control and the use of Ron DeSantis by the club members who refuse to let go of power.

As noted by a comment from Rick Stans:

Watching heads explode over Trump's "DeSantimonious" comment is exactly what the RINO elite relishes! Sundance has spelled out Ron's position very clearly over the past weeks and anyone with half a brain could see it! Ron is a tool being forged as the splitter to weaken Trump in his bid to win in '24.

Moreso, the "god" man is what the RINO elite like Ryan and McCarthy hope will destroy the MAGA movement and restore the order of Kings & Queens in D.C. verses the serfs in fly-over country! The Coastals are becoming a bit uneasy hearing about Red Waves and MAGA movements! Time to crush these peasants once and for all!

Enter "god" man! Smiling, snarky Ron the Trump slayer! The Rip Van Winkle of Mar-a-Lago post raid! Trump's friendly shot across the bow is a wake-up call!

No Ron, we won't sit back and let you be another fraud, a fallen acorn from the dead Bush Oak that was fertilized with our hard-earned tax dollars for decades!

Either we're all in for MAGA (despite what Trump does) or we'll all be learning how to say "can I trade my dollars for yuan" in Mandarin one day! Wake up foolish Ron supporters who have become offended by Trump! Haven't you learned from your parents that "sticks and stones may break my bones….."

Trump is a gamer and his words were just a precursor to let Ron know that all the money and notoriety he will be promised for distancing himself from MAGA to "Save" America, is really nothing but fools gold in the end if MAGA goes the way of the Tea Party!

The Republican Club would rather lose elections and retain power than win and be held accountable to deliver on their false promises.
Time to allow Richard Baris, the People's Pundit (thanks to LafnH20), to share his Twitter feed:

I'll tell everyone what it was right now, though it's not the smartest fight for REPs to have before a midterm. When Ron DeSantis is chatting with

@kevinomccarthy

and Team Paul Ryan behind the back of the man who made him the governor of Florida, it was bound to happen.

They've targeted Ron DeSantis as the stool they believe is their best chance to foil another Trump Presidency and after enough hammering away at him and blowing up his head, there are indications that it is working. But make no mistake, it is a DC establishment plan and is true.

I've received at least a half dozen calls from GOP donors who have told me the contents of their conversations AND sitting members of Congress have confirmed it.

@GOPLeader

Kevin McCarthy and Paul Ryan have hatched a plan to defeat MAGA in 2024 and Ron DeSantis is the stool.

Sorry if that hurts some of your feelings, but it's true and those of you most likely to bitch about me saying it don't know what the Hell you're talking about. If DeSantis doesn't bite, though he has been more lately, their next target is

@GlennYoungkin

.

…

Point being, for those of us who know, it was not at all surprising to hear that. Sure, it plays into their hands, but that's Trump folks. That's his way to say, "I know what you're doing, I've heard all about it." "Andrew Gillum would be governor of Florida if not for me."

The reactions to this thread are exactly why Kevin McCarthy and Mitch McConnell are in love with this idea.

Folks, I don't really care for whom you vote. But don't delude yourselves into pretending it isn't #NeverTrump behind the push for Ron DeSantis to fracture the party in a primary if and when Trump obviously runs. It most definitely is them to include McCarthy and McConnell.




And both things can be true. It [the friendly fire] absolutely could've waited for Wednesday. But come on, everyone should know by now, that's Trump.

Mitch McConnell's former chief of staff and campaign manager, right here, and retweeted by Byron York with the quickness. I have to be brutally honest, I'm a little surprised the party who beat Fox New is gearing up to potentially fall for this plan. He knows full well, folks.
Incidentally, I am getting the following message on some of the People Pundit's tweets:
This Tweet is from an account that no longer exists.
But the Twitter account seems to appear normally on my phone. Elon Musk, where are you?!
After speaking to Sebastian Gorka, who called Trump and DeSantis "two alpha males" (thanks to Sarah Hoyt), the National Pulse's Raheem Kassam offered his prescription:
Democrats run "better" campaigns, mostly because they're allowed to, which in turn is because they dominate in positions that exert pressure – in politics, media, and culture. It's easier for Democrats to rip down Republican yard signs without recompense. It's also easier for left leaning activists to get away with violence or intimidation. Their talking heads are rarely challenged when they lie. They use Chinese Communist-owned platforms like TikTok to radicalise impressionable young voters and they use issues like abortion and student loans to do it. We recognise all of this as immoral. But elections aren't conducted by Marquess of Queensbury rules. Republicans play touch football and call it smashmouth. Democrats play smashmouth and call it kiss chase.

The GOP 'McLeadership' must change. If you accept that Republicans should have done better in this cycle, you have to go to the source of where the decisions are made and how the money is spent. That's in the hands of people like Kevin McCarthy, Tom Emmer, Mitch McConnell, and Ronna Romney McDaniel. Trump isn't a "party leader" in a European political sense. He wasn't on the ballot this year. He doesn't control the purse strings, nor the hires inside the GOP. His philosophy is ultimately beholden to centralised implementation.

DeSantis has a big and bright future. But it cannot come at a cost to the MAGA movement. Even those surrounding and supportive of the victorious Florida governor accept that DeSantis is closer to the GOP comfort zone – including the neoconservatives – than Trump is. The Florida governor had the winds at his back in this election – an horrific opponent, a mass Republican migration to the Sunshine State, and of course, his own well-earned incumbent record to run on. …